Access American Education
Recruit your Students from Vietnam • Market Entry • Higher Education Fairs
VIETNAM FAIR REGISTRATION
We remain true to the same principles on which our company was founded  years ago: providing superior service to our clients, putting safety first, creating opportunities for our people.
Vietnam Higher Education Fairs
Register for our Virtual or In Person Vietnam Fairs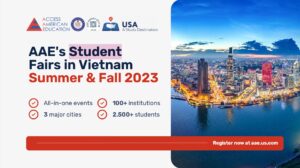 View our 2023 Fall Fair Proposal and learn about everything we offer as part of our Fairs!
Download here: 2023 Fall Fair Proposal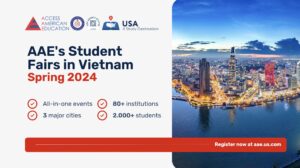 View our 2024 Spring Fair Proposal – Registration open now.
AAE Spring 2023 Fair Report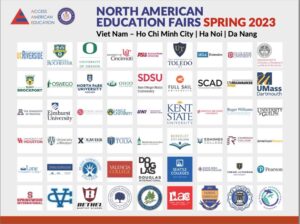 Our report on our Spring 2023 Fair is ready.
Download the report here
Partner with a global network of AIRC certified education agencies
The first step toward a rooted presence is to establish a relationship with a trusted agent who will facilitate and coordinate local activities, acting as your representative office.
Market Entry
Learn more about this creative approach to recruiting.
Article: Vietnamese education among best in world: The Economist
Vietnam understands the value of education and Vietnamese children experience one of the world's best schooling systems, The Economist, a famous British magazine, wrote in a recent article.
Article: Vietnam - US relations naturally strategic:
For U.S. Ambassador to Vietnam Marc Evans Knapper, the bilateral relationship between Vietnam and the United States is already fundamentally strategic in nature. He is "extremely hopeful" about the possibility of upgrading the relationship to a strategic partnership.
STUDENT RECRUITING WITH AAE
Access American Education LLC is a full service education consulting agency that helps international students with career counseling and placement in U.S. and Canadian high schools, boarding schools, colleges, universities, and other educational institutions.
MARKET ENTRY
At AAE Global, we believe that the success of your institution's commitment to engage with the World must be rooted in the local community.  That means having a long-term strategic approach. AAE Global works with your institution to identify the best means to prioritize international opportunities and foster deep engagement, be they international recruitment, in-country teaching, research or co-curricular activities. 
We create that local presence which means You Belong Here. 
HIGHER EDUCATION FAIRS
Access American Education is a full service educational consulting agency that seeks to assist in the enrollment of Vietnamese students in American colleges and universities.
Fairs are held several times a year in a selection of Vietnamese cities.
TAKE A LOOK! Read more about what our Fall 2022 Fair included.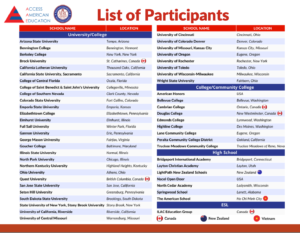 HIGHER EDUCATION FAIRS – 2023 and 2024
We want to welcome you back to Vietnam for In Person Fairs this Fall  2023!
The fairs will take place September 22nd to 26th, 2023
Spring Vietnam Fairs
Registration is opening up for March 1-5, 2024 Please join us!. Thank you for your support. We look forward to working with you.
We are Access American Education
We have improved the lives and education of Vietnamese students for the last 14 years.
core values
Why People choose Us
Market Entry • Higher Education Fairs
It's What We Do
Here's what others are saying:
OUR BIG COMMUNITY
Access American Education
Talk to us about your marketing and recruitment needs.
OUR TEAM
Working everyday for the people that matter.
Our team helps students to make education choices that work for them. Our partnerships with schools and higher education institutions allow us to find the right fit for the student and for the schools. We are in Vietnam and the U.S., making everything easier for all involved.
SOME FACTS
Great experience builds great Market Entry.
The first step toward a rooted presence is to establish a relationship with a trusted agent who will facilitate and coordinate local activities, acting as your representative office. We partner with a global network of AIRC certified education agencies, who serve as your base for in-country initiatives.
Your strategy is an investment, and to succeed it must be a multi-year effort. AAE Global works with institutions on a multi-year basis.  Your program plan is supervised locally, but in accordance with your standards of practice and legal requirements. You are in control.
SOME FACTS
In Country Presence helps everyone
In-Country Presence is an affordable alternative to hiring your own staff and opening your own office. Your institution gets the advantage of having a local office, with your name on the door and a local resident, fully qualified to represent your institution. You'll have an address in the prestigious District #1 in Ho Chi Minh City. Monthly costs for the service are often lower than a single airfare to Vietnam, so call us to discuss your specific needs.
SERVICES
We Provide Outstanding Service
Schools have turned to AAE to assist them in a number of unique ways. Almost always these requests involve using a member of the AAE Vietnam staff to act in a physical capacity to assist in representing the institution. At AAE Fairs, this often comes in the form of a translator, a person to help manage traffic at the event and provide basic information about the school. With 
AAE's In-Country Presence
, a local member of the AAE team acts as an integral member of your institution's admission team. With either dedicated, or fractional representation, our staff member becomes part of your process. In this way you are ALWAYS AVAILABLE to students.
We'd Love to Hear from You
Contact Us
If you have questions about our fairs or market entry program, please start by completing the form: