AAE Higher Education Fair Information
What's Included?
Everything you need is included in our Fairs
The AAE Higher Education In-Person Fair will takes place at a top ranking hotel located in the center of the city. Each school representative will be supplied with a 6-foot table and an interpreter/assistant; additionally, if you send your brochures and materials to our Vietnam office, they will be waiting for you upon arrival at the fair! Also high school visits, 1/4-1/2 page in Principal's Guide, post and pre fair dinners, post fair information.
As an added bonus for signing up for one of AAE's U.S. Education Fairs, we will take you to visit a high school the day before your fair.
AAE Handles the Details
Pre-Fair Webinar
Let AAE's experts assist in the organization of a web seminar prior to the fair to build a buzz around your school!
Printing and Translation
AAE can also translate your materials into Vietnamese and print them at substantial cost savings.
Flights and Accommodations
Don't know how to get here or where to stay? AAE can help!
Visas
We can also help you obtain your required visa. Contact 
Ken Cooper
 (
[email protected]
) for more information about these services.
Post-Fair Information
After the fair, a detailed report describing the fair, a list of the schools in attendance, and the number of students who attended will be sent to you. You will also receive the registration list of all students in attendance. Finally, a letter will be sent to your President thanking your institution for its participation.
Click here for more information and costs
.
Questions? Contact us and we'll get back to you soon!
Higher Education Fairs in Vietnam
We are planning for our  
Spring 2024
Vietnam Fairs.
March Fair Registration choices will include:
In person or REP Table
March 1 – 2, 2024       –  Ho Chi Minh
March 3, 2024            –  Ha Noi
March 4 – 5, 2024      –  Da Nang
To sign up please visit our Spring Fair Registration page.
Please be pre-registered for the Fair and we will get back to you with additional information as the date gets closer.
Thank you!
Now Offering Higher Education Representative Tables (Rep Table)
Rep Table Representation available for:
September, 2023 Fairs
• In addition to In Person, this fair will also be available as a REP TABLE.
We are very happy to be able to get back to In Person Fairs!
If you want to participate but aren't quite ready to travel please consider our REP TABLE Opportunities. We will provide a representative at your fair table to talk to students and help with your student recruiting needs.
Higher Education Fair Costs
Registration Fees, Discounts, Principals Guide
Fair Registration Fees include fair attendance, a student interpreter, fair promotion and advertising, access to our venue and facilities during the fair, tea and coffee breaks during the fair, the AAE local school tour, post-conference dinner and recap with AAE Vietnam staff. Domestic flights, hotels, and all other associated costs are the responsibility of the attendee.
Ho Chi Minh City –  $1,650 per fair table per city
Da Nang – $1,650 per fair table per city
Ha Noi  –  $1,650 per fair table per city
MARKETING BOOSTER PACKAGE
• Cost – $350
• For information please contact Judy Irwin
REP Tables
For schools unable to attend the fair:
Representative Table: Your school marketing materials including flyers, brochures, etc. will be displayed at an on-site table to showcase your schools in addition to a live representative to answer questions and talk to students.
This is a perfect opportunity for schools that are unable to travel yet would like to be part of a recruiting initiative. A well-trained counselor will speak about your institution and distribute your promotional materials
Principal's Guide Fee – $700
Please note: discounts do not apply to this option
What's included in the Principal's Guide?
Overview of schools: Closest major city, Student population, Number of international students, Ranking & Accreditation, Year founded, Institution type
Fast Facts for International Students: Admission requirements, Tuition and living costs, Housing options, Enrollment deadlines, Scholarships
Reasons why students and parents should choose institution to study
Photographs
AAE is certified by the American International Recruitment Council (AIRC) and strictly adheres to its ethical standards in all dealings with students, families, and universities.
Marketing Your School
We provide marketing for you
AAE Fairs Provide Opportunities to Showcase Your Institution in Vietnam
AAE Markets Your School
Our major publicity and promotion campaign targets more than 10,000 high school students and English centers in Hanoi and Ho Chi Minh City.
Logos of participating schools on all AAE promotional items, including invitation postcards, banners, and more.
Poster and invitation distribution to high schools throughout each fair district
Event details on our website and social media channels
Participating schools mentioned in all AAE articles and related publicity
A recruitment tour or individual info sessions before or after the fair*
*Costs vary, please contact us for further information.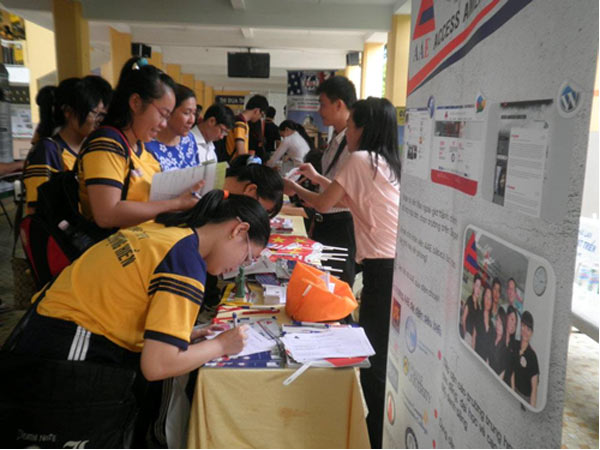 Registration Fee Includes:
Pre-Fair publicity and marketing campaigns via newspaper ads and social media targeting over 10,000 Vietnamese high school students.
Institutional summary (1/4 to 1/2 page) in Principal's Guide – a printed publication distributed to all Vietnamese high schools and students/parents attending fairs
High School Visits to meet with students interested in studying abroad
Fair Table at Leading Hotels well known to students
Skilled and Pre-Trained Interpreter/Assistant during each Fair
Post Fair Report and Student Registration Lists
Welcome and Farewell Dinners with AAE staff
Additional Complimentary Services
Set up a Skype Conversation prior to fair between Institutional Representative and AAE Trained Interpreter
Make and Purchase In-Country Flight Reservation, with subsequent reimbursement to AAE
Negotiated Hotel Accommodation Prices for AAE Block of Rooms
Ensure all Institutional Promotion Materials shipped by OCS will arrive prior to specified high school visits and designated fair venues
Other Fair Related Services Offered
Obtain a Visa Approval Letter required by Vietnam Immigration for Single Entry into the country, upon request Cost: $30/person
Translate and print insitutional promotional materials into Vietnamese. Cost: Varies depending on quantity. Contact Pho Tran ( [email protected] ) for details.
Create a 2-page spread in Principal's Guide of Institutional Facts and Photos Cost: $700 
Review the Principal's Guide
Advertising in the AAE Principal's Guide . . .
AAE Principal's Guide Showcasing Fair Participants – and now Ad space is also available even if you cannot attend the fair.
The Principal's Guide is a printed publication developed for each fair series (Spring, Summer, and Fall)—is distributed to high school principals to distribute to their students and is also distributed to all students attending the AAE Fairs.
ADVERTISING IN THE PROGRAM GUIDE MAGAZINE – 
All participating institutions, as part of the registration fee, will have a ¼- ½ page advertisement.
Additionally a 2 page spread is available for purchase to further promote your institution. This is available for fair participants who would like to upgrade the 1/4 page ad or for non fair attendees who are interested in advertising in the program.
The cost is only $700 for a 2 page spread in a quality full color printed magazine. To sign up for inclusion in the guide please fill out our Sign up form. If you have questions please contact Ken Cooper.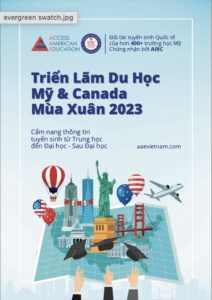 Look through our 2023 Principals Guide 
The Principal's Guide includes:
Overview: Closest major city, Student population, Number of international students, Ranking & Accreditation, Year founded, Institution type, etc.
Fast facts: Admission requirements, Tuition and living costs, Housing options, Enrollment deadlines, Scholarships, etc.
Reason why students and parents should choose their institution to study
Unique and Distinctive Campus Programs, Courses of Study, Student Services, etc.
Pictures showcasing the campus and student opportunities
Optional: A 2-page spread featuring your school  (This 2 page spread is available to fair attendees and also to schools who are not available to attend the fairs)                      Cost: $700 (discounts don't apply)
Sample page –
Contact Ken Cooper ([email protected]) to learn more and express interest.
Access American Education
Contact us – We will help you with your recruitment strategies.