About Us
Access American Education LLC (AAE) is an AIRC certified, full service education consulting agency that helps international students with career counseling and placement in U.S. high schools, boarding schools, colleges, universities, and other educational institutions.
AAE was formally created in February 2009, and its first advising office opened in Ho Chi Minh City, Vietnam, in November 2009. We have offices in Vietnam and in the United States to provide students with a smooth transition into the American education system. Both offices have outstanding relationships with the schools and governments in their respective countries.
AAE also provides ongoing support and solutions for American institutions of higher education that wish to increase their foreign student enrollment. We provide marketing opportunities for our U.S. educational partners, coordinate travel and hotel accommodations, schedule individual visits to Vietnamese high schools for university personnel, and organize annual American Education Fairs in Vietnam.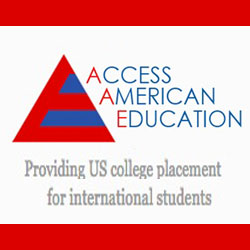 For students, our Education Consultants provide customized attention to each of our students and their families. We have relationships with a wide range of North American educational institutions so as to place students in a school that best meets their needs and resources. We do not subscribe to the "one size fits all" theory of student placement. We also work closely with a Philadelphia law firm to assist with visa problems and other legal issues, should they arise.
To broaden the choices of each student, our Educational Consultants have extensive knowledge of the curriculums of each education facility and can help students design a course of study that fits with their interest, strengths, cost, and location preference.
Access American Education adheres to strict ethical guidelines when working with students and families, as well as schools and colleges. We pride ourselves in our ability to meet your family's needs and expectations.
Why Choose AAE?
Why should your institution use AAE to help diversify your student body? AAE is a full service educational consulting firm. This means we assist students and educational institutions in the recruitment process from start to finish. This includes:
Assessing a family's ability to afford an American education and identifying financing options for students
Using our legal team to help students fulfill all requirements for a student visa
Identifying students' career goals and university options and ensuring that each student's choice is best for both the student and the university
AAE is a rarity in the world of educational consulting in that we maintain fully functioning offices in both Vietnam and the United States.
AAE's extensive service and specialized geographic scope means that an AAE representative will be able to assist the student at every stage of the application process, from college selection to transportation and registration.
AAE is certified by the American International Recruitment Council (AIRC) and strictly adheres to its ethical standards in all dealings with students, families, and universities.
We faithfully represent our member schools at college fairs in Vietnam, eliminating travel expenses your
institution would incur traveling to the country.
Questions? Contact us and we'll get back to you soon!
If you want to speak with someone immediately, please call Ken Cooper, at (856) 308-5426. If you have questions or want to speak with an Education Consultant about your case, please fill out the form below.
Access American Education
Contact us – We will help you with your recruitment strategies.